Chiropractic Care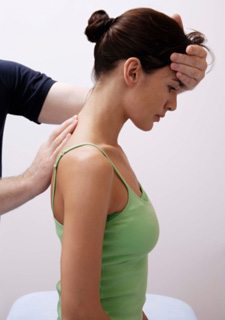 Chiropractic is a form of natural healthcare that helps to keep your spine healthy and aligned. When subluxations (misalignments) are present in the spine, pressure is put on nerves. When the misalignments are corrected through the chiropractic adjustment, everything goes back to functioning as it should. The most important part is that your nervous system, which controls every other body system-can work at 100%.
Our Primary Techniques
The main methods we use are as follows:
Diversified
After determining which vertebrae have lost their normal motion or position, a precise manual thrust is performed to free up "stuck" spinal joints.
Gonstead
This full spine approach relies on X-rays and a heat-sensing instrument for a thorough evaluation and documented results.
Thompson drop table
Thompson Terminal Point technique is a system of analysis and a special table that reduces the amount of energy needed to adjust your spine.
Cox Flexion-Distraction
This is a gentle, non-force adjusting method that includes the use of a unique table. The movements of this table assist in the traction of the spine. The method opens up compressed spinal discs and reduces pressure on facet joints of the spine.
Myofascial Release
We'll locate tender areas where muscles and connective tissue are producing pain and restricted movement and gently release them.
Activator Methods®
This technique uses the Activator Adjusting Instrument-a handheld spring-loaded tool that delivers a steady low-force, high-speed thrust.
Because this approach is dramatically faster than manual adjustments, the body rarely tightens to resist the adjustment. As a result, your adjustment will be more comfortable and effective. The Activator is also helpful for adjusting elbows, wrists, knees and other joints of the body.
Extremities
While many health problems can be traced to the spine, wrists, elbows, shoulders, knees other joints of the body can be helped.
We will choose the techniques that will fit the patient the best.
Providing Personalized Plans
The care we provide is always customized to each patient. After your chiropractor performs a detailed history and exam, they will come up with a diagnosis and then construct an individually tailored treatment plan.
At every visit, you will be reevaluated through orthopedic exams to see how you respond to care. We want to make sure you're making progress and strides toward achieving your goals.
FAQ
The number of sessions depends on your medical history and the severity of your condition. After a few appointments, we can let you know how you're improving and provide an estimate of how long your care will take.
Yes, we will provide you with various exercises to help with range of motion and the particular condition you came in with.
Yes, massage, physiotherapy and custom orthotics all work in conjunction with chiropractic care.
Yes, we accept most insurance plans and will verify your insurance coverage, when you contact your office.
We do have a discounted rate for patients who do not have insurance.
As we're in Silicon Valley, we see many engineers who are in pain from sitting in front of the computer all day long.
Sciatica and help for auto accident injuries are two other common reasons why patients see us.
Yes, although we can help most people who come to see us, there will be times when someone else is better suited to your particular case. In those instances, we have a network of doctors we can refer you to.
Contact us today to schedule a convenient appointment!

Chiropractic Care in West San Jose, Santa Clara CA | (408) 260-8292