Orthotics in West San Jose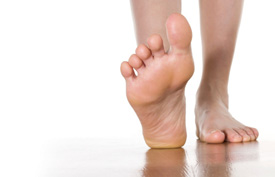 Orthotics are shoe inserts that provide stability, so everything is lined up in the ankle, knee, hip, lower back, mid-back and neck. These shoe inserts are used for patients with arch problems-either they don't have an arch or have too high of an arch. We aim to correct such issues using these custom inserts. If there's a discrepancy in leg length, we can use an orthotic insole to even it out and correct it with an adjustment.
What Does the Process Involve?
We'll make an evaluation during your exam to determine if you can benefit from orthotics. These are custom moldings that we put on the foot. The first step in having the removable shoe inserts fabricated is taking an impression of the foot with a mold and then making any necessary adjustments. Once we have a mold taken it takes about a week until your new shoe inserts will be ready.
A Custom Fit
Each patient will have different orthotics. If your feet change, then we can also do another mold, maybe once every six months to a year. We do so to make sure that we are conforming to changes in the feet.
For example, sometimes, the feet of pregnant patients change due to the release of the hormone relaxin. So another molding may be required for new orthotics.
Conditions These Shoe Inserts Can Address
Achilles tendonitis
Ankle pain
Arch pain
Arthritis
Blisters and calluses
Bunions
Flat feet
Plantar fasciitis
FAQ
Are orthotics covered by insurance?
They are not.
Can these inserts work in any types of shoes?
There are different types of orthotics. For example, women who wear heels can have a half-size insert made that can also be worn in any type of shoe that's narrow in the front. The inserts also can made for athletic running shoes and men's dress shoes.
Are all the shoe inserts you offer made from the same material?
No, they come in different types of fabric that can go on the top of the insert for patients' comfort or shoe design.
Does it take time to get used to wearing orthotics?
Yes, your feet need time to adjust to the proper biomechanical (walking) position. The inserts should be gradually used to begin with. In the beginning, wear them for about five minutes and then increase the amount of time you wear them.
Yes, you can just use soap and water to keep them clean.
In the majority of cases, the inserts will last for many years. For children, orthotics typically need to be changed approximately every two years depending on growth.
Why not just get orthotics at the drugstore or big box store?
Those types are made for the masses and are inferior to custom-made ones. OTC insoles also wear down quicker than custom orthotics, which will likely increase pain. And though you may be saving money initially by purchasing OTC insoles, you could be doing more harm than good which could cost you more money down the road.
Contact our West San Jose practice today to schedule an appointment.

Orthotics in West San Jose, Santa Clara CA | (408) 260-8292