New Patients
What to Expect
As a chiropractor in West San Jose, Dr. Chun wants all of his patients to feel immediately at home when they walk in the door. Since chiropractic care involves a series of visits, with each one building on the ones before, it's important for you to feel comfortable right from the start.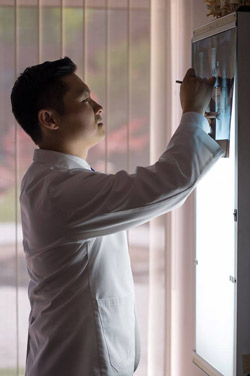 Your First Visit to Our West San Jose Practice
You will be warmly greeted when you walk into our office.
Please reserve approximately one hour for your first visit. In order to give you the best possible care, please arrive at your scheduled time and check in at the front desk. We will need you to help us get to know you by filling out some intake forms, which will ask for information regarding your health history and reason for your visit.
If you would like us to check your insurance coverage for chiropractic care, please bring your insurance card and give it to the front desk assistant, and we would be happy to check your benefits for you.
Chiropractic Consultation
Once you have completed your forms, we will just need a few more minutes to prepare and review your file. Dr. Chun will then bring you into the exam room, where he will consult with you regarding your health history and answer any questions you may have for him.
He will then conduct a number of physical examinations, based on your health history and consultation.
At the end of the exam, the doctor will make recommendations based on his findings and let you know whether and when you should come in for a follow up visit. Of course, feel free to ask us questions at any time during your visit!
Read Our New Patient Testimonials
Amazing experience from the receptionist to the time spent with Dr. Chun.

This was my first visit. Awesome experience with the doctor. Nice organized facility and process.

Glad I found you! Thanks Dr. Chun and Christina!

Amazing workers/professionals. Very friendly and responsive to all my questions and concerns.

Thanks Dr. Chun for the amazing treatment and thorough explanations. I walked in with serious back pain and left feeling relieved. I couldn't ask for more!

I really appreciate the wonderful care from Dr. Chun and his massage therapist. I can easily see that I will be needing their services to feel better.

I had a very good experience. Dr Chun and Dr Lisa were so patient and nice. I would definitely recommend them to my friends.

The doctor and the receptionist were very courteous and generous. Listens very much to the patient and explain things with positive manners. Very satisfied with the visit.
Contact us to become a new patient today!

New Patients | (408) 260-8292