Find Lower Back Pain Relief in San Jose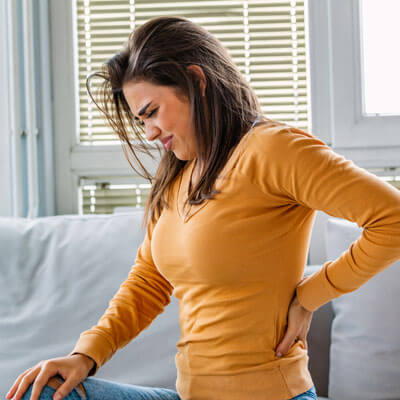 Lower back pain is so common that our San Jose chiropractors estimate that 8 out of 10 people will experience back pain. It is the second leading cause for doctor visits, behind only influenza infections. It can be caused by many different issues—from athletics, to car accidents, falls and bad posture. Also, due to the increase in telecommuting, our lower backs are also taking the brunt of poor desk posture and bad home office ergonomics. From general achiness and soreness, to numbness, tingling, burning sensations and even spasms, the symptoms of lower back issues can vary from patient to patient. But what all patients have in common is the negative effect chronic pain and aches can have on their lives. This is where we can help.
Natural Remedies for Pain
The chiropractors at New Hope Chiropractic have a thorough method for discovering the root cause of your pain. Through proper testing and orthopedic exams they get the images they need, whether through X-ray or MRI, to ensure you are correctly diagnosed. When the doctors have the proper diagnosis from the start, patients in turn have a higher success rate from their treatments. Because there is no "one-size-fits-all" solution to lower back pain, Drs. Daniel Chun, Rich Jae Ho Roh and Jack Vong provide each patient with a customized plan of action based on what they see and the related diagnosis. Following initial treatment they will follow up with any modalities that are needed, like muscle stimulation or tractioning. After a patient stabilizes they will also do physiotherapy work, like strengthening and stretching, to ensure the affected area and its muscular structure are held in place and their condition continues to improve after our treatment is done.
When Can I Expect to Feel Better?
Everyone responds to treatment differently, and your habits can dictate how quickly treatments start to work. Within three to four visits, however, we should be able to see results and have a better grasp on how your body is responding to the treatments, giving a more complete look into what's ahead for your treatment plan.
New Patients »
Can You Prevent Lower Back Pain?
There are many ways to prevent this type of problem. Posture is very important—if we are slouching, or looking at computer screens in a seated position for many hours a day, that will put pressure on your spine and can lead to pain. Learning and using proper lifting techniques to avoid back pain is also important. Whether you're at home or at work, improving your posture and lifting the correct way will complement your treatment plan greatly.
We're Here to Help You Live Pain-Free
Back pain doesn't need to be debilitating for patients. We're here to help you get back to living your life the way you want to. Give us a call to make an appointment for an exam and we'll create a treatment plan to help you start feeling better.
CONTACT US »

Lower Back Pain San Jose, Santa Clara, Cupertino CA | (408) 260-8292