Auto Accident Chiropractic in San Jose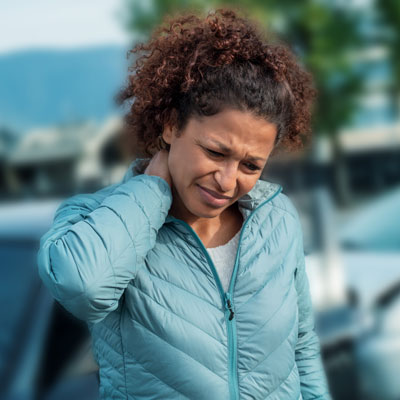 Whether you were involved in a low speed parking garage crash or a high speed expressway collision, a car accident is traumatic to the body, leaving patients with resulting musculoskeletal issues. As chiropractors, one of our main areas of focus is helping patients recover from any type of whiplash, sprain/strain, or muscle type of injury. Chiropractic care is highly effective in helping patients recover properly.
At
New Hope Chiropractic
, we don't just want to get patients out of pain. We want to ensure that we take care of them, so that they don't have any lingering problems later on because of the accident.
Types of Injuries
In addition to achiness and soreness, here are some of the most common issues we see in patients involved in an auto accident:
Whiplash
Sprain/strains to ligaments and muscles
Shoulder or arm pain
Disc herniations
Headaches
Brain fog
Rarely, some patients will have fractures. In such cases, we'll refer out to the proper physician to address those fractures.
First, you will be given paperwork to complete to help us know the details of the accident: What happened? What type of accident did you have? For example, was it a rear-end accident or did you T-bone to the side? Your information will guide us in what areas to examine.
After your chiropractor performs a thorough exam, we may give you a few orthopedic tests if necessary. Next, if you need X-rays or an MRI, we'll send you out for those. If your case is fairly straightforward, you'll be given treatment on the first day.
How soon should I be evaluated after an auto accident?

The sooner you come in after an accident, the better, as we can make a diagnosis and get you on the path to recovery.
If someone had an auto accident in the past, but hasn't seen a chiropractor, is it too late for them to see you?

While it's never too late, it will be more difficult to recover, because the person's post-accident body is set in a certain way. That being said, it's better late than never. Most patients get relief after seeing a chiropractor.
How long will it take to recover?

It's hard to say, as every case is individual, and your recovery time may differ from others. Generally speaking, it can take days, weeks, months or longer to completely heal. Once we determine what your injuries are, we will craft a care plan to get you on the path to recovery.
Book an Appointment
If you've been involved in an auto accident, it's important to seek care immediately. Contact New Hope Chiropractic today to schedule an appointment.

Auto Accident Chiropractic San Jose, Santa Clara, Cupertino CA | (408) 260-8292