Whiplash Treatment in San Jose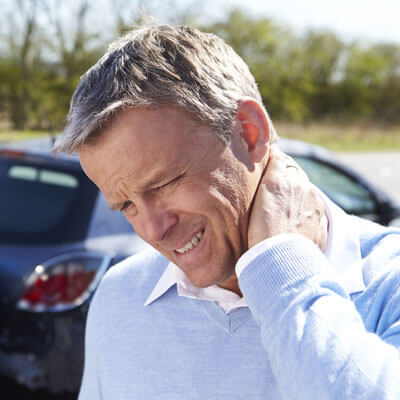 You should never ignore a neck injury. Sudden blows or changes in acceleration can cause physical trauma to the neck and upper back.
When unaddressed, even subtle injuries can worsen over time, resulting in significant pain and immobility.
At New Hope Chiropractic, we provide thorough, comprehensive care for whiplash to get you out of pain as soon as possible. We never make you choose between short-term and long-term relief. Our careful and personalized rehabilitation process makes sure you achieve optimum healing, so you can look forward to a bright and active future.
What Is Whiplash?
Whiplash is a forceful thrust into the neck and upper back area that overstretches the soft tissues, causing injury to the muscles, tendons, and ligaments. It is referred to medically as a strain or sprain to the neck and upper back.
This type of soft tissue injury is most commonly caused by the rapid deceleration of a car accident. It can also result from any type of physical trauma that causes your head to move forward and back too quickly, such as a fall, a sports injury, or a physical altercation.
Signs of a Soft Tissue Injury
Neck pain isn't the only sign that you may suffer from this condition. Depending on your case, you may also experience difficulty moving your head and neck, inflammation, muscle spasms, limited range of motion, pain when turning the head, and pain that radiates down into your arm. Pain can range from minor to severe.
What to Expect
If you were in an auto accident, make sure you bring any police reports, insurance information, and a claim number to your first appointment. It's also important to bring in any medical or radiology reports if you've been to the ER or another doctor.
When you first come in, we'll start with a thorough assessment, including a range of motion test, orthopedic examination, and palpations. We'll also take a history to find out if you've had any previous neck injuries. If needed, we'll refer you for X-rays or an MRI to get a closer look at what's going on.
As we review the details of your case, we'll refer you to another practitioner if you need additional care. We work closely with a team of acupuncturists, physical therapists, and neurologists to make sure your care is comprehensive.
Fast and Effective Pain Relief
Our first priority when starting care is to decrease the inflammation and injury to the nerve. During this acute phase, we'll use different types of adjustment techniques, always keeping you comfortable during care.
Our doctors combine chiropractic care with soft tissue work like the Graston technique and other myofascial release techniques to break up adhesions along the soft tissue. We may also use other modalities as needed, such as electrical stimulation, ultrasound, or tractioning.
The acute phase of an injury usually lasts two to five days. In severe cases, it may last as long as two weeks.
Supporting Long-Term Healing
After targeting pain and initial injury, we'll teach you stretches and exercises to strengthen the affected area. Of course, reducing pain is important, but it's just as essential to make sure you don't have problems five or 10 years down the road. We rehabilitate the area properly, so you experience a successful recovery.
Make sure you stay in contact with us throughout the process of healing. Keep us posted about how you're feeling or if you think you need to come in more often.
---
Frequently Asked Questions
Every patient is different. On average, we see patients for about 3 months, but your plan will be specific to your needs.
Should I still come in if my injury happened a while ago?
Neck injuries should always be evaluated, even if it's been two months or longer since the initial trauma. You may experience further health issues later if you don't go through a proper rehab process.
What should I do to care for my injury outside the office?
We'll talk to you about nutritional advice and exercises specific to your diagnosis. Rest, ice, and drinking lots of fluids also help decrease inflammation.
---
Schedule Your Appointment Now
The earlier you start care for whiplash, the better. Book your first visit now.
CONTACT US »

Whiplash Treatment in San Jose, Santa Clara, Cupertino CA | New Hope Chiropractic